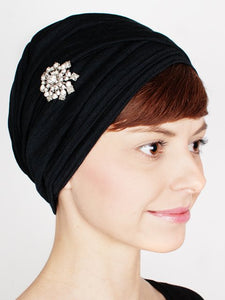 Till vardags eller till fest - med en Margret blir du tjusig vid alla tillfällen. Du knyter din turban på nolltid och kan enkelt forma den på många olika sätt. Den är gjord av ekologisk bomull.
Varje Margret är unik, den har sin egen vintagebrosch särskilt utvald av Birgit & Benny. Därför är det inte säkert att broschen på bilden blir den samma på din turban, men vi gör allt för att känslan ska vara densamma.
Casual or party - Margret makes you look great at all occasions. Margret is extremely easy to shape and you'll be ready to go in 60 seconds. It is made of organic cotton.
Each Margret has its own vintage brooch, exclusively picked and matched by Birgit & Benny to suite your particular turban. This means that the brooch on the photograph may not be the exact one on your Margret however it illustrates the style and feel of it.